Welcome to the new Life Guardian Foundation Website!
Medical Card to Protect and Preserve Life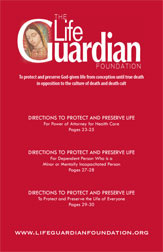 Your "refusal" for organ donation must be documented.
Upon registering at the DMV your verbal decline, stating "no" when asked whether or not you wish to be an organ donor, is not honored. According to the language of the law, Revised Anatomical Gift Act (2006), you must "opt-out," documenting your "refusal" in writing using "explicit language," otherwise, it is "presumed" that you have consented to be an organ donor to be utilized for the purpose of "organ transplantation, education and research."
Document your decision of "refusal" for organ donation, make known your wishes to have your life protected and preserved and ensure, that in the event that you cannot speak for yourself, your family and loved ones will speak on your behalf. It is a matter of life and death
Click here to download the medical card.
Protect Life Video